Whew. That was quite the long title.
Hey daydreamers! Today I'm doing something a little bit different than usual: I have two posts that aren't really long enough by themselves, but since the topics go PERFECTLY together, I decided to smoosh them into one giant pointe-shoe post!
In case you didn't catch the CRAZY EXCITING announcement in my last post, I'm getting my pointe shoes in exactly 2 weeks from today! I'm so excited, so while I'm impatiently waiting for October 19, I'm trying to soak up as much pointe shoe information as I can. And what better way to do that than read The Pointe Book by Janice Barringer and Sarah Schlesigner and ask Natalie from Taking The Cake some questions about pointe?
So today I'm going to be doing a miniature book review, plus a super fun collab with Natalie where I share my pointe shoe expectations, and she gives me the reality! This post is going to be AWESOME, so let's get started!
***Gifs via Google***
A complete examination of the pointe technique and pointe shoes is provided in this guide. Dancers tired of their pointe shoes wearing out too quickly benefit from a thorough explanation of the shoemaking process, and the book includes tips that show how to best fit, care for, and custom order toe shoes. Interviews with ballet stars reveal their highly evolved but proven methods of caring for pointe shoes, while the basics of the pointe technique, different methods, and its history are also discussed. With a handy reference on pointe-related injuries and their remedies, this new edition also offers the latest information on contemporary designs, materials, products, and suppliers. A sampling of pointe technique schools around the country offers an authoritative syllabus for teachers and students alike.
Synopsis & Cover from BarnesAndNoble.Com
Cons
The cover is really bland: it's literally just a bunch of text in boring fonts slapped on a stock photo of pointe shoes. Not exactly my favorite design, but the back cover looks really nice! I think maybe they could've used more interesting fonts and aligned the text better, or maybe a different image where the shoes don't look so yellow.
Some of the information was oudated, but that's expected from a book that was published in 2012. Maybe they'll make a fourth edition?
I didn't think some of the sizing recommendations were super helpful for a beginner, since I had no idea if I had a high arch or tapered toes or a large instep since I didn't have anything to compare to. (I did figure out I had high-ish arch and slightly tapered toes, though!)
I think the chapter that just listed dance flooring companies was pretty unnecessary. I think they could've done a list of the names and websites, maybe not writing out the entire flooring company's catalog and history.
It was pretty wordy.
These are actually the only cons. This book was awesome!
Pros
This was so inspirational! The history of pointe chapter was mind-blowing, and as I read, I just wanted to dance forever!
I thought it was really cool learning about the different pointe shoe companies, how the shoes are made, and different ballet companies and academies.
The "Conversations on Pointe" chapter is one of my favorites. It was super cool seeing how famous ballerinas wear their pointe shoes!
I'm definitely going to keep this book in my dance bag for reference, especially for the Injuries sections. They had tons of different remedies for lots of different pointe-related injuries, from calluses to corns!
I think it was set up really nicely, starting with history and ending with questions on whether pointe shoes are relevant today.
Overall
This book was super helpful and taught me a lot about pointe shoes. It showed me what to expect and cleared up misconceptions. I recommend this book to anyone who's just starting pointe or has been dancing for years!
🌟🌟🌟🌟☆
I rate this book 4.5/5 stars!
Next, I'm going to be sharing some of my expectations for pointe shoes, and Natalie is going to be debunking them and sharing her pointe shoe realities! Thank you so much for collaborating with me, Natalie! This was so fun! 😉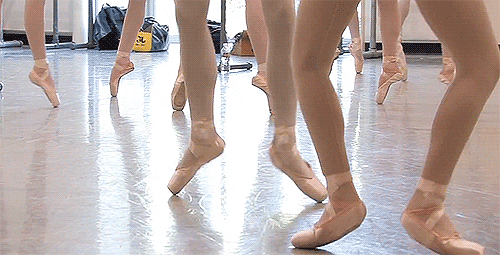 Emmie's Expectation: It's going to take 9 million years to find my first pair of pointe shoes, but once I get them, I'll never want to take them off!
Natalie's Reality: Actually, I'm pretty sure it only took about a half hour of trying on shoes for me to find the right ones-I have very wide feet so that kind of narrowed the options down. I'm also still wearing the same kind of pointe shoes, Bloch European Balance. My dance teacher actually told me I wasn't allowed to wear anything else because my feet are so wide.
Emmie's Expectation: I'm going to get a TON of blisters.
Natalie's Reality: I have never ever gotten a single blister, so fear not, young padawan. I have rubbed some skin off on my little toe, but that's about it and it didn't hurt.
Emmie's Expectation: Sewing my pointe shoes will be pretty easy.
Natalie's Reality: Well, that depends. I learned to sew when I was really young, so sewing wasn't hard for me, but I found sewing the ribbons the first time to be stressful since I had just gotten these beautiful shiny pink shoes and I didn't want to ruin them. Also, sewing elastic is such a huge pain the first time. (at my school, were required to have elastic on our pointe shoes in addition to ribbons)
Emmie's Expectation: The first time I stand en pointe will be totally magical! And painful. 😂
Natalie's Reality: Yes and no. Yes, it's freaking amazing and it feels like being 8 feet tall and on top of the world. And no, it doesn't hurt, it actually feels just fine, except for a little pressure on your toes. If the shoes hurt when you step up on them, then they probably aren't the right shoes.
Emmie's Expectation: I'm going to need a million layers of padding – tape, Ouch Pouches, lambs' wool, Second Skin…
Natalie's Reality: I wear toe pads and that's it. It's very important to be able to 'feel the floor' beneath the shoe,and with too much padding, that's really hard. And like I said, I've never gotten a blister.
Emmie's Expectation: My first class will pretty much be sewing and tying ribbons.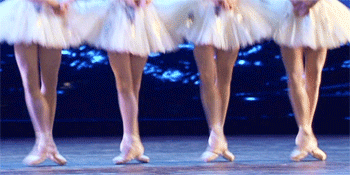 Natalie's Reality: My first pointe class we actually did get to dance a good bit. At my ballet school, level 4 and up wears ribbons on their flat shoes, so we all knew how to tie them. Our teacher just helped us burn the ends of our ribbons (so they don't fray) and then we were up and dancing.
Emmie's Expectation: It'll be pretty easy to releve, but literally impossible to pirouette or even stand on one foot.
Natalie's Reality: Rolling up onto releve feels fine the first time, uncomfortable the fifth time, and "OH MY GOSH I WANNA DIE" the tenth time. As for pirouettes…eheheh, still working on those.
And that's it for this pointe-shoe megapost! I had so much fun doing this collab with Natalie and reviewing The Pointe Book! Thanks for reading!
AND IT JUST OCCURRED TO ME THAT THE NEXT TIME I POST I WILL BE TWELVE. WHAT.
Do you wear pointe shoes? What were some of your expectations that you had? Do you take ballet? Or dance? Have you read The Pointe Book?
P.S. – If you share this post by reblogging, pinning on Pinterest, sharing on social media, or sending the link to a friend, you'll get three FREE desktop wallpapers sent straight to your inbox! Just leave a comment telling me how you shared this post!