Hey daydreamers! I'm so happy that all of you guys asked a ton of questions that I'm super excited to answer. I want to thank every single one of you who takes the time to read my posts, follow my blog, and write out a comment – I (literally) couldn't do this without y'all! I wish I could just reach through the computer screen and give a big hug to every single one of you guys. 🤗❤️🤗
And since I'm a nerd, I listed all of my answers to your questions in alphabetical order of the name of the person to asked them. 😂 Hopefully that will make it a little easier to find your questions!
Okay, enough of the sappy speeches, numerous emojis, and my nerdiness. 😂 Let's get started!
***I don't own any of the GIFs in this post, they're all from Google. Also, I made the images with PhotoFunia.***
What is your favorite thing you've learned about blogging?
I think maybe my favorite thing that I've learned about blogging is how to create better quality posts. When I was first starting out on my AG Doll Blog, my posts were only a few paragraphs long, my images were grainy and blurry, and I didn't really have a good idea on what people actually liked to read; I was just taking random pictures of my dolls and hoping someone would want to read them! I'm still trying to improve the quality of my posts today, but I feel like I've learned a lot about how to write something people want to read.
What is the longest thing you've ever written?
I wrote a novel last year called the Huntress that was 30,000 words long, but I have a sorta-abandoned WIP that's currently at 35,000! I actually haven't written a book or story or anything in a really long time. I'd love to get back to that, but I've been so busy lately!
Which post did you enjoy making the most?
Ooh, this is a really good question – and a really hard one! Maybe one of my first posts, Colorado Travel Diary | Day 1: Skies, Stairs, Spiders, and Sunsets because it totally took me back to that amazing vacation and I just felt so happy and relaxed writing it.
Do you have any book recommendations?
YES. The Hunger Games trilogy. GO GET YOUR HANDS ON IT IMMEDIATELY AND READ THE AMAZINGNESS THAT IS THE HUNGER GAMES!!!
I mentioned a lot of books that I love too in this post, plus I recommend anything by Raina Telgemier, the Dog's Purpose series, and Wonder by R.J. Palicio!
What TV shows do you like?
My little sister and I love rewatching old Disney channel shows – Jessie, Liv & Maddie, and the Suite Life are a few of our faves. We watch the new ones that air now like the new Bunk'd, Coop & Cami Ask The World, and Just Roll With It, but the newer ones just aren't as good as the old ones from the 2000s to early 2010s!
Favorite singer?
My favorite singer is Taylor Swift, and my favorite bands are OneRepublic, for KING & COUNTRY, and (of course) the Jonas Brothers!! My all-time favorite band is the Jonas Brothers, and I think Taylor is my second favorite musician and then OneRepublic & for KING & COUNTRY are tied for third place.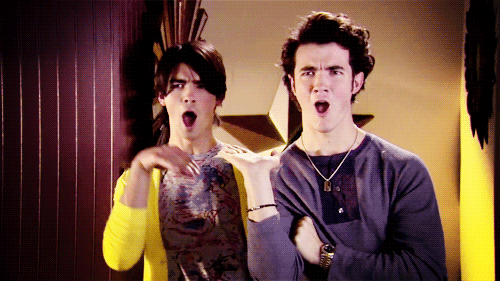 Current favorite songs?
Ooh I have a huge playlist of my favorite songs! I think right now ones I've been listening to a lot are Like It's Christmas by the Jonas Brothers, Somebody to Love by OneRepublic, and Burn the Ships by for KING & COUNTRY is a really great one too.
What genre of movies do you like best?
Actually, I'm not really sure – I kinda watch everything! I love anything Marvel and Star Wars, but other sci-fi movies aren't really my favorite. I love Disney stuff, action, adventure, contemporary…the only thing I won't watch is horror movies! I will never in a million years watch a horror movie. I can't even handle a haunted house! 😂😂😂
Which movie is your favorite?
One again, the Hunger Games movies! I just watched it yesterday actually and it was AMAZING.
1. Do you prefer listening to books on tape or reading them yourself?
I 100000001% prefer reading actual books – eBooks are okay, but I have no idea why I don't like audiobooks so much. It's just so hard for me to pay attention unless I'm doing something! Plus I really love snuggling up in my cozy chair with a blanket and a book and reading for hours until I go to bed.
2. If you had two children: a girl and a boy, what would you name them?
Ooh, this is a really fun question! I would name the boy Elijah Samuel, because those names are really cute and have great Bible stories. I also love Skye or Skylar for a girl since it sounds so pretty, and maybe Olivia or Elena for a middle name would be cute.
3. What is your least favorite chore around the house?
Probably wiping the counters or dusting. I'm not super great at chores and I don't really do them a lot!
4. If you could meet three people from history, who would they be?
Nick Jonas from 2010 Just kidding, I think I would be really cool to meet Rosa Parks, Abraham Lincoln, and Nick Jonas from 2009 maybe Betsy Ross or Martin Luther King Jr.
5. What is your favorite movie?
The Hunger Games is amazing! I'm excited to watch Catching Fire (the second movie). I also love any Marvel movie.
6. Do you like peanut butter?
Yeah, but I don't LOVE it. Like my dad and sister will eat it straight from a spoon, but I'd rather have it in a PB&J sandwich or on toast with bananas – yum! Basically I'm saying that I like it but only with something else.
7. Do you have any siblings?
Yes, I have one little sister (she used to have a blog about our dog, Chewy: she doesn't post any more, but her photos are so cute, so check it out!) who is 9 years old.
do you like puppies or kittens better?
Definitely puppies! They are just so cute and amazing and fluffy and cuddly and playful and loyal and AHH I LOVE THEM.
pens or pencils?
Um, I have no idea. Depends on what I'm writing, how good the pen is, and how sharp the pencil is.
have you ever gone rock climbing?
Yes, actually, but only the indoor kind. There's this huge rock wall gym near us and sometimes we'll go there with friends and for birthday parties. There's so many different bouldering stuff and rock walls there, it's really fun!
pink or purple?
Pink! Blush pink is my favorite color ever.
skydiving or bungee jumping?
Ack! If you mean indoor skydiving versus the bungee jumping with the trampoline and cords, then bungee jumping any day because I hate not being able to breathe and all the air blowing in my face…but if you mean actual skydiving and jumping-off-of-a-cliff-backwards bungee jumping, I'd still choose bungee jumping because at least I wouldn't be free-falling to the ground and ack!
highlighters or colored gel pens?
Ooh, I really love colored gel pens but I also use highlighters! Both, I guess?
lemonade or iced tea?
Lemonade all the way, I really love diet lemonade from Chick-Fil-A.
fav. bible verse?
Ooh, mine is:
Psalm 62:7-8 The Message (MSG)
7-8 My help and glory are in God
    —granite-strength and safe-harbor-God—
So trust him absolutely, people;
    lay your lives on the line for him.
    God is a safe place to be.

copied and pasted from Bible Gateway
fav. hobby?
Dancing!! Especially ballet!
if you could rename any animal, which animal and what would you name it?
I would rename the llama "Majestic Creature of Amazing Awesomeness." Just kidding, I would maybe rename fish Aquatica, since it just sounds so majestic and cool!
1. What does a usual Day in the Life of Emmie™ entail?
Ooh, so it really depends on the day. On any Monday, Wednesday, or Friday, I'll wake up and eat breakfast while watching a show with my little sister. Then I'll usually get started on my homework for the day. On Monday and Friday I try to do at least one or two subjects, but on Wednesday I have to do all of them since they're due the next day. When I'm done with homework, I'll blog, film, or work on whatever project I'm doing at the moment, and then I'll eat dinner and go to dance on Wednesday and sometimes Monday. Then on Tuesdays and Thursdays I have school, which lasts from 8:00-ish to 3:00, and then I'll work on projects and blog stuff or just hang out until I have dance in the evenings. On Saturday, I have ballet at 9:00am that I have to wake up early for, and then I have rehearsal and my sister has soccer that afternoon. On Sunday I don't have any dance usually, and I go to church and eat lunch with my family and hang out. That was REALLY long but basically that's the general idea!
2. What are your best productivity tips?
My tip is to make a checklist for the day on what you want to accomplish – whether it's a mental list or you write it down on paper or in a bullet journal. If I write it down then I usually forget to check things off, but the night before I like to make myself a mental plan for today to follow in the morning!
3. Can you give us an in-depth look at your morning routine?
Once again, my morning routine really depends on what day it is. On a "home day" (Monday, Wednesday, Friday) I'll usually wake up around 8:00 or 9:00 and watch a show while I eat breakfast. Then I'll work on my schoolwork after I get dressed and wash my face. On school days, I wake up at 7:00, get dressed, do my hair, wash my face, put on my shoes, eat breakfast, grab my backpack, and go! On Saturday I have early-morning dance so I'll wake up at 8:00, put on my dance outfit, do my bun, eat a quick breakfast, and wait a little bit for my ride to arrive. Sunday, I get ready and I'll make myself some peppermint tea to put in a little to-go cup that I bring to church.
4. As you know, having an autoimmune disease can be discouraging. How do you take care of yourself emotionally/mentally and stay positive throughout your battles?
I think I've just learned to embrace that this is my "new" (it honestly feels like I've hat T1D for my whole life, but it hasn't even been two years) normal. I know that to keep myself healthy I have to do some certain things (like sticking my fingers with needles and inhale applesauce at 12:00am), and that's okay, because that's my new normal.
5. Do you have any thoughts on pursuing your dancing dreams despite an illness and what that's like?
Sometimes it's difficult when my blood sugar is going crazy, my monitors are falling off, and my pump gets in the way. But like above, I've learned to manage it, and I don't let it stop me!
7. Did you realize I skipped #6? XD
Nope! How did I not even notice that…
What is your favorite clothing brand?
Ooh, good question! I have no idea. Maybe Target or Children's Place.
Favorite dancers?
Chloe Lukasiak, Maddie and Mackenzie Ziegler, and Misty Copeland are my favorite dancers ever! I love their books and all of them are so inspirational and amazing, incredible dancers, ahhh.
DC or Marvel?
MARVEL ALL THE WAY.
Pink or Purple?
Pink! Blush pink is my favorite color ever.
Cats or Dogs?
DOGS DOGS DOGS. Dogs are so amazing and loyal, and they're adorable and playful and cute and cuddly! Mine is currently sleeping on my lap as I type this.
Drawing or Painting?
I think I'm better at drawing and it's a lot easier to get out a pencil and doodle then, say, get out a canvas and paint a masterpiece. However, I really love the look of paintings (especially watercolor!) and they're so relaxing, but really time consuming! I might say drawing.
Do you watch Once Upon A Time?
No, I don't. But I remember in Kindergarten when I was absolutely OBSESSED with Frozen I saw the episode where she like materialized out of a pool of liquid/ice or something? I remember I would try to recreate that by rising up from under a blanket. 😂 I was a strange six-year-old.
Favorite movies/TV shows?
Like I said above, I love old Disney channel shows! I also love Series of Unfortunate Events on Netflix.
Favorite candy?
I love M&Ms! I think my other favorite candy is Musketeers. I loooove marshmallows (haha, flashback to 2017!) and ESPECIALLY ones covered in chocolate, and Three Musketeers have all of that in a candy bar, so YUM!
Favorite movie?
Haha, almost everybody asked this question! For the fourth time, I would say Hunger Games. LOL! Ooh, my favorite Disney movie is probably the Greatest Showman.
What do you do in your free time?
I'm always watching YouTube, checking WordPress, working on a blog post or stop motion, reading a good book, and dancing! I also have to be listening to music while doing all of those things for some reason, lol.
Pink or Aqua?
Ooh, aqua is so pretty…but blush pink is my favorite color…so pink? But I only like very light shades of pink, light coral pink, and tan-ish pink, not any hot pink or dark pink. I'm really picky!
And that's it for this post! Thank you to everyone who asked questions for the Q&A – y'all are the best! *hugs* I had so much fun answering your questions and trying something new by adding a hundred GIFs, lol.
Pink or purple? What's your favorite movie? Your opinion on the Hunger Games? Are you a dancer? Do horror movies freak you out? Do you like old Disney channel shows?
Forgot to ask questions? Ask them in the comments! See ya next week!
P.S. – If you share this post by reblogging, pinning on Pinterest, sharing on social media, or sending the link to a friend, you'll get three FREE desktop wallpapers sent straight to your inbox! Just leave a comment telling me how you shared this post!